The World Famous LFNW Raffle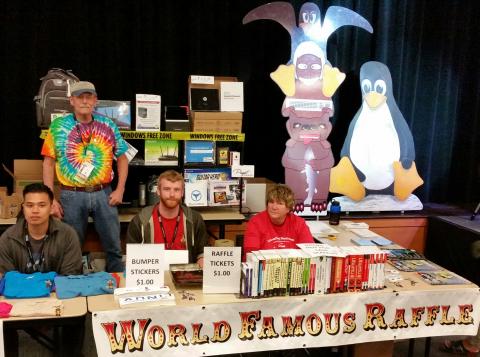 Every year LFNW has it's biggest fund raiser activity called "The World Famous Raffle", thanks to our many Community Supporters who donate noteworthy raffle items.
Due to it's popularity the raffle will be held both Sat and Sun in the exhibit hall, at the end of each day..
Items dontated by our Community Supporters will be listed on this page as well as displayed throughout the event at the raffle table in the exhibit hall.
2017 LinuxFest Fund Raiser Raffle Prizes (with donated by) Note: No firearms or liquor will be raffle prizes.
1 Linux Computer Workstation, (by Pogo Linux) value $1600
5 license key certificates CrossOver Linux 1yr support (by Codeweavers) value $80 ea.
2 1-lb Ubuntu Blend coffee (by Hammerhead Coffee Roasters) value $11 ea.
5 Raspberry PI 3's with Memory, Power supply, Case (by LinuxFest NW) value $75 ea.
1 APU.2C2 1Gb WiFi /n router OPNsense firewall. installed (by Candela Tech) value $300
1 Linksys AC2600 WiFi Router (by Candela Tech) value $170
1 Asus Touch Screen Chromebook (by LinuxFest NW) value $577 ea.
2 Sabrent USB to SATA external Docking Station with Cloning (by LinuxFest NW) $35 ea.
1 Netgear Nighthawk X4 gaming router (by LinuxFest NW) value $178 ea.
2 AUKEY Portable chargers (by LinuxFest NW) $60 ea.
2 SanDisk Ultra USB 3.0 256GB Flash drive (by LinuxFest NW) $70 ea.
2 Laptop Briefcases (by openSUSE) $75 ea.
1 Multi-media keyboard with Midi keys (Express Computer Care) $70 ea.
1 Signed by RMS copy of "Free Software for a Free Society" (by FSF) $100 ea.
Assorted Computer books (by various publishers) value est. $30 ea.
Note: Other prizes may include misc. T-shirts, coffee mugs, buttons, shopping bags, thumb drives, etc.